EDBT 2006 will take place in Munich, which is located in the southern part of Germany, about 60 km north of the Alps, where you can find a spectacular natural scenery and the world-famous castles, which are a must-see item during every European tour. With approximately 1,2 Mio. inhabitants, it is the third largest city in Germany.
The Technische Universität München is a cradle of computer science. In 1967 it was the first German university to offer a complete course of studies in computer science and led the way for similar courses at other universities. Through international contacts that date back to the 1950s, it has been and still remains one of the world's top addresses for the exchange of ideas in the field. In summer 2002 the Department of Informatics (top-ranked in Computer Science among all German universities) and the Department of Mathematics moved into a completely new building located at the Garching campus (north of Munich).
The conference will take place in the "Muenchner Künstlerhaus" in the heart of the city. From there, several famous tourist attractions, like the City Hall and the Hofbräuhaus, and renowned museums, like the three Pinakotheken and the Deutsches Museum, are within walking distance. In addition to this, Munich offers a variety of attractions for conference attendees and accompanying persons. Some examples are: a Munich opera or concert by one of three international Orchestras; guided tours of the various museums; trips to the nearby lakes and beautiful alpine countryside. It is also possible to take a tour to one or more of the famous Bavarian castles (Neuschwanstein, Hohenschwangau, Linderhof, Herrenchiemsee) built by King Ludwig II of Bavaria or visit some of the numerous baroque churches.
At the end of March, when the conference will be held, the weather in Munich may vary significantly. Participants should be prepared for visiting one of the famous beergardens at sunny mild 15 degrees celsius as well as snowfall.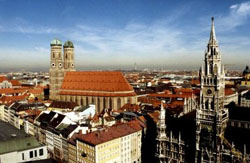 Munich Skyline (Frauenkirche & City Hall)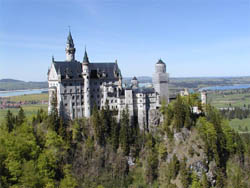 Castle Neuschwanstein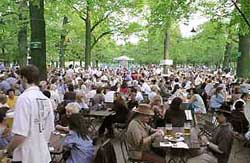 Munich Beergarden Scenery