Conference Venue :
The conference will be held at the Münchner Künstlerhaus in the heart of the city of Munich. So it is easily accessible by public transport. Hotels, restaurants, shops and tourist attractions are within walking distance.
Münchner Künstlerhaus
Lenbachplatz 8
80333 München
Germany
Bus Stop & Underground Station: Karlsplatz (Stachus)
Underground: U4, U5
S-Bahn: all trains S1 - S8
Tram: 16, 17, 18, 19, 20, 21, 27
Further information on public transport (timetables, lines, tickets):
Münchner Verkehrsverbund (MVV)
City-Map of Munich:
City of Munich - (www.muenchen.de)
To find the location of the conference venue insert "Lenbachplatz 8" in the city-map-field on the right hand side of the linked page and press "Enter". A new window with a city-map and a red circle marking the "Künstlerhaus" will open in a new browser-window.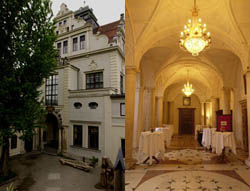 Münchner Künstlerhaus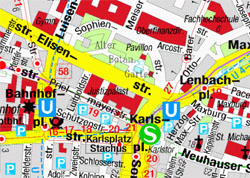 Map of the Area


Karlsplatz (Stachus) at night
Arrival by Train:
München Hauptbahnhof is the main railway station of the city. It is connected
to the national and international high-speed-train network and the regional trains.
For information about connections and tickets use the link to the Deutsche Bahn:
Online travel service - Deutsche Bahn.
From the main station it is a short 10 minute walk to the conference venue.
Or you take the S-Bahn (S1 - S8) or the Underground (U4 and U5) to Karlsplatz (Stachus). But it is just one stop away.

Arrival by Car:
There are several motorways to reach Munich. Follow the signs to the city center and the station. There are multi-storey car parks next to the conference venue, but it isquite expensive to stay there for a longer time.
It is preferable to use one of the Park & Ride Stations in the outskirts of the town and take the subway. You can find a plan of the Park & Ride Stations here.